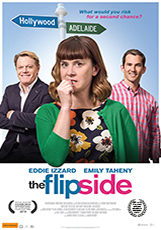 Marion Pilowsky's feature film directorial debut, THE FLIP SIDE will have its international premiere at the 73rd Edinburgh International Film Festival (19-30 June 2019) where it has been invited to screen in the World Perspectives strand.

[The EIFF WORLD PERSPECTIVES strand is a showcase for exciting up-and-coming talent from across the globe and we are particularly thrilled to see so many women filmmakers represented, across so many genres.
- Ben Luxford, Head of UK Audiences at the BFI.]
THE FLIP SIDE stars British actor, writer and comedy legend Eddie Izzard, acclaimed French actress Vanessa Guide and Australians, Emily Taheny and Luke McKenzie.

Produced by Sue Murray, Marion Pilowsky and David Willing, with an original script co-written by Lee Sellars and Marion Pilowsky, the film was backed by Screen Australia, the SAFC and 20th Century Fox.


International sales are handled by Gary Phillips and his UK based sales agency, MovieHouse Entertainment.


Shot in over 35 locations in and around Adelaide, South Australia, THE FLIP SIDE echoes the classic European and American independent cinema of character ensembles and dialogue driven storytelling.


THE FLIP SIDE
While visiting Australia, English actor Henry and his French girlfriend Sophie, stay with Adelaide couple Ronnie and Jeff. What should be a fun break quickly descends into paranoia, bitter recriminations and truly appalling behaviour. In the end, 'real Australia' has had enough and lets them know it. THE FLIP SIDE pitches a young Aussie couple against the visitors from hell, an insufferable European duo operating with the confidence of the anointed.